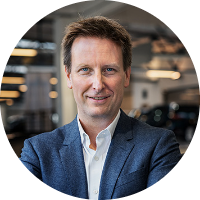 About
Where are you most likely going to be spotted on the weekend? 
On my roadbike, in my garden or on a family excursion.
About
You couldn't turn down a …
About
If you could work one day in the shoes of someone else who would it be?
Hans Zimmer - I would love to be able to compose and arrange music the way he does
Work
A perfect working day looks like this ...
I am coming into the office, have a clear set of goals that I want to accomplish that day; I go into the kitchen and get a flask of water and a pot of green tea, sit down at my desk and start with the most important project right away. During the day, I meet with my colleagues for productive and focused meetings that have a goal and everybody feels that they can contribute. At the same time, the atmosphere is relaxed and positively energetic. During the day, we can celebrate the achievement of a milestone (the acquisition of an important customer, hiring a great new member of the team etc.). Towards the end of the day, we hang out in the kitchen area, have a snack and talk about the upcoming weekend.
you have to endure obstacles that you don't have any control over - which are negatively impacting a goal that you have invested a lot of time and energy into.
Work
What do you think about the term 'Work-Life-Balance'?
I believe that a good Work-Life-Balance is a prerequisite for maintaining a productive level of energy and creativity.
Recruitment
What is the most important attribute an applicant must have to be successful in your company?
I like it when people assume ownership for our results and our team. That means that they are acting responsibly with a certain level of self-drivenness and leadership - independently of their position in the company. I am trying to encourage and enable that behavior by giving people space to grow and to unfold.
Recruitment
What do you think about the statement 'hire for attitude, train for skills'?
Generally speaking, I would support that. However, there are situation where the team needs a certain skillset immediately. Also, somebody needs to be able to train the others...
Leadership
What does good leadership mean to you?
Everybody can be a leader, who has a certain set of responsibilities. Leadership starts when people apply themselves to improve the way things are being done. Leadership means to be focused on a goal, not on a process. It means to watch out for each other. And it means to openly speak about the things that have not worked - in order to do them better in the future, regardless of whose fault it was.
No published jobs yet
Markus Kröger has not published any jobs yet. Check back in later or find other job posts.